Post by Hexspa on Feb 19, 2018 1:54:20 GMT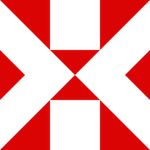 The thing about a 'great sounding live room' is that it needs space to breathe. While there are multiple theories about it, I remember Ethan's rule of thumb for diffusion is 1' recording distance per inch of diffusion. I haven't memorized diffuser function tables but many tend to be around 4" in depth. That means 8' of your width is unusable for 'great sound'.
Even so, your room will still have modal problems which will mess up your targeted frequency range. For this, you'll need a fair amount of absorption. This leads me to advise you to just set up an absorbent corner and use that as your spot.
For sure you can use diffusion. Done correctly, and in conjunction with absorption, it will minimize boundary interference, contribute to a more spacious and large sound, and complement your controlled absorption efforts.
Regarding treating your ceiling, that would probably give you the best result. Whether it needs to be 100% absorbent is up to your targets, budget, and whether you want to employ diffusion or not. You need to prioritize.
Like I said, set up a heavily absorbent corner into which you'll record. Guitar amps can be completely surrounded by absorption so long as they're in a reasonably-sized space, such as yours. The rest of the room will hold the rest of the modal treatment in addition to any diffusion.
In summary, just prioritize for a good recording spot and let the rest of the room support that. Especially because your needs are so columbid (pigeon or dove-like. Noble yet common). Diffusion optional.
Say I have a budget for the fully absorbent ceiling and walls. Would you recommend this if I could install wooden slats or diffusers in key locations to bring some reverb back into the room?
Well, we should be careful about the word 'reverb'. I can't speak on slats but even diffusers in a small space probably won't produce much in the way of reverb. Some diffuse reflections, yes. Reverb tails, probably not.
In essence, and with a balance of absorption, what controlled reflections and diffusion will do is enhance the sound of the room. It will be akin to placing an 'ambience' reverb patch on an instrument which has the 'tail' slider all the way down.
Though I have never treated a room by making the ceiling entirely absorbent, I fathom it's the cheapest and easiest way to getting a usable recording. Beyond usable, the sound will be very focused, uncolored, and responsive to later processing.
Remember, if you include room tone into your recording then it's there to stay. If you eliminate room tone then you can add whatever room you want later. Personally, I say go with absorption all the way.