Post by antonmcmillan on Mar 23, 2018 21:10:57 GMT
Hello there, Acoustic Experts,
I hope you are doing well and the weekend is in proper positive mode. For me, unfortunately, it is a time for work and problem solving. But not for long, I hope..
I am writing this thread as a result of a build process that is now well underway and that I have certain doubts in. The room is a small production room that I will use to mangle with my synthesizers. It is 5.8x3.2 x2.4 meters (19x10,5x7,9 ft) (LxWxH). The room has rounded ceilings.
You can see it here:


T
herefore the room that im building has an angled ceiling profile.
You can see the framework of the design here:


A
t this point I have done the framework, the walls and the ceiling. The walls are done with a layer of MDF covered with a layer of high density plasterboard. Every joint or panel is sealed with caulk very carefully.
You can see the framing done here:
Before the framework was installed, I have done the ventilation system for fresh air. The IN and OUT air ducts have been treated with silencer boxes.
The inside of the boxes are shown here:
The floor has been done with underfloor heating and tiles.
You can see the finish here:
I have also received the first parts of my custom made table.
You can see it here:
So, so far I am at a point where only the basic first measurements have been made inside the room. I have measured the room with PSI A21-M and JBL P708 monitors, using RME Fireface UCX as my soundcard and Presonus PRM1 as my measurement mic. Both monitors have revealed similar problems. I have already installed acoustic hangers in the soffits, right under the speaker enclosure space. The hangers have fixed some problems in the low end.
You can see the measurement of the empty room vs the room with hangers here:
However, I feel something is not right with my measurements. For some reason my soundcard (RME FIREFACE UCX) has a very large internal deviation on the frequency response (around 12 db across the full range). You can see the full frequency response of the soundcard here:
So my question is: can you maybe give me some insight on why might this deviation be so big? Maybe theres some kind of power or earthing ground loop thats is messing up my interface so that it gives this very strange response. I have watched several videos on REW and most of the soundcards have a variation of several dBs. And only in the lowest and highest frequencies.. Any advice will be very appreciated.
For those that want to have a closer look on whats going on on my measurements or maybe have an interest to see how are PSI A21-Ms compared to JBL P708s - i have attached the measurement data in the following link:
MDATA


I also made a screenshot of the measurements of both speacers for comparison: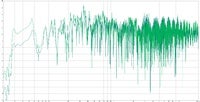 I would also like to ask the experts another question. Should I consider changing my monitors from A21-Ms to JBLs? They have much more power in the lower frequencies. Its not just visible in the graphs (10 dB difference at around 30 Hz), but is audible very clearly as well. I assume soffit mounting speakers that have more low end energy would be more beneficial than the PSI's, because I would have more low frequency presence in the room without adding a subwoofer. And that would be a good thing for electronic music.
I hope my post is not too long and boring. Thanks in advance everyone who will have a minute to read through and maybe give their insights.
You have a good weekend, Sirs.
Sicerely,
AM